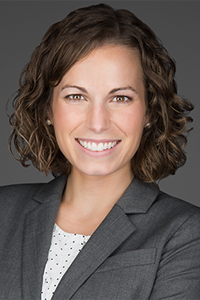 Dr. Caroline Halbach is thrilled to be returning to the Milwaukee area to join Medical Eye Associates as an oculoplastic surgeon. She specializes in surgery involving the eyelids and eyebrows, tear drainage system, and orbit.
Dr. Halbach also provides various nonsurgical facial rejuvenation services including botulinum toxin and filler injections.
She will be on staff at ProHealth Care- Waukesha Memorial Hospital and Oconomowoc Memorial Hospital and Ascension Health Systems.
She will be seeing patients at our Wauwatosa, Oconomowoc and Waukesha offices, and will be accepting new patients starting in August 2021.
Originally from Brookfield, Dr. Halbach received her undergraduate degree in biochemistry at the University of Wisconsin, where she was also a member of the marching band. She went on to attend medical school at the University of Wisconsin School of Medicine and Public Health.
She completed her internship at Aurora St. Luke's Medical Center and her ophthalmology residency at the University of Minnesota, where she served as chief resident.
She then completed her fellowship training in oculoplastic surgery at the University of Minnesota and Mayo Clinic.
Dr. Halbach is board-certified in ophthalmology. She is a member of the American Academy of Ophthalmology and a candidate member of the American Society of Ophthalmic Plastic and Reconstructive Surgery.
She has presented at national conferences and serves as a reviewer for the American Journal of Ophthalmology Case Reports.
In her free time, Dr. Halbach enjoys spending time with her family and friends, running, cooking and yoga.