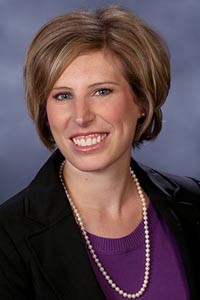 Dr. Jessica Schrieber, MD, specializes in general ophthalmology, including refractive cataract surgery, retinal disease and retinal injections, medical and surgical treatment of glaucoma. Dr. Schrieber takes a personal approach to patient care.
Dr. Schrieber joined Medical Eye Associates in 2015. She sees patients at our Waukesha, Mukwonago and Oconomowoc office locations. She accepts new patients of all ages. She is on staff at Waukesha Memorial Hospital and Oconomowoc Memorial Hospital. She operates at ProHealth Care's Moreland Surgery Center and Eye Surgery and Laser Center in Wauwatosa.
She earned an undergraduate degree in Biochemistry and Molecular Genetics from Gustavus Adolphus College in Saint Peter, Minnesota. After completing a post-Baccalaureate research fellowship with the National Institute on Aging in Baltimore, Maryland, Dr. Schrieber earned her Medical Degree from the University of Wisconsin School of Medicine and Public Health. She completed her Internship and Ophthalmology Residency at William Beaumont Hospital in Royal Oak, Michigan. She furthered her training in medical and surgical glaucoma with a fellowship at the Cincinnati Eye Institute.
Dr. Schrieber is board certified by the American Board of Ophthalmology. She is a member of the American Academy of Ophthalmology, the American Society of Cataract and Refractive Surgery, the American Glaucoma Society, the Wisconsin Academy of Ophthalmology, and the Milwaukee Ophthalmological Society.
In her free time, Dr. Schrieber enjoys golfing, music, water sports, staying active, spending time with her family and friends, and cheering for Wisconsin sports teams.